Protein Bar Recipe With Dates And Dry Fruits / Khajoor Pak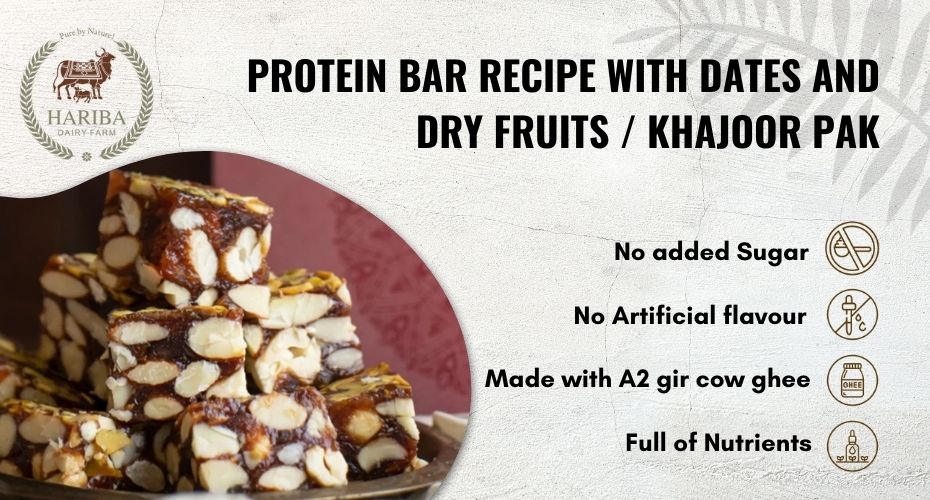 Those who want a quick and wholesome method to refuel their bodies are increasingly choosing protein bars as a snack. Nevertheless, a lot of dry fruit bars sold in market are laden with additive like sugar. You can guarantee that you are ingesting high-quality ingredients that will support your overall health and fitness objectives by making your own protein bars or by buying from Hariba Dairy Farm online store.
Making homemade protein bars using dates and dried fruits, commonly known as Khajoor Pak, is a terrific idea. Both dates and dried fruits are highly nourishing and give the bars a sweet flavour naturally. While dried fruits are a terrific source of antioxidants and other vital nutrients, dates are a fantastic source of both energy and fibre. When these components are combined with nuts and seeds, a balanced amount of protein, good fats, and complex carbs is created.
Ingredients
You'll need the following ingredients to make these tasty and healthy dry fruit bars with dates:
2 Cups Chopped Seedless Dates
½ Cup Pistachios (Pista)
½ Cup Almonds (Badam)
½ Cup Cashew Nuts (Kaju)
5-2 Tablespoons of Ghee
1 Teaspoon Cardamom (Elaichi) Powder
Preparation
It is advised to roast pistachios, almonds and cashew nuts.
After that, take A2 cow ghee in a kadhai and add the dates. Stir the dates well till they become soft.
Once they become soft, mash it well.
Add roasted dry fruits and mix well.
Add cardamom powder and mix well. Switch off the gas.
Now add this mixture in a mould and let it set for 30 minutes in refrigerator.
You can also sprinkle chia seeds, pumpkin seeds or sunflower seeds on the top.
Once it is set cut into even pieces and our Khajur Pak is ready.
Shaping
When all the components have been included, the mixture ought to be clumpy and sticky. To suit your tastes, you may form the mixture into bars or balls.
Press the mixture into a baking dish that has been lined, and then chill it for one to two hours to form bars. Cut the mixture into bars once it has cooled and become hard.
As an alternative, you may use your hands to roll the ingredients into balls that are bite-sized. This is a fantastic choice for a fast snack when travelling.
Conclusion
If you are going through busy schedule you can buy organic dry fruit sweet with dates from Hariba Dairy Farm online store or else make your own protein bars from dates and dried fruits and enjoy healthy way to feed your body. With only a few staple ingredients, you can whip up a snack that is packed with protein, healthy fats, and complex carbohydrates. You may personalise and carry these bars everywhere you go by adding different types of nuts, seeds, and dried fruits.