Indulge In Guilt-Free Delights: Healthy Sweet Treats For The Upcoming Festivals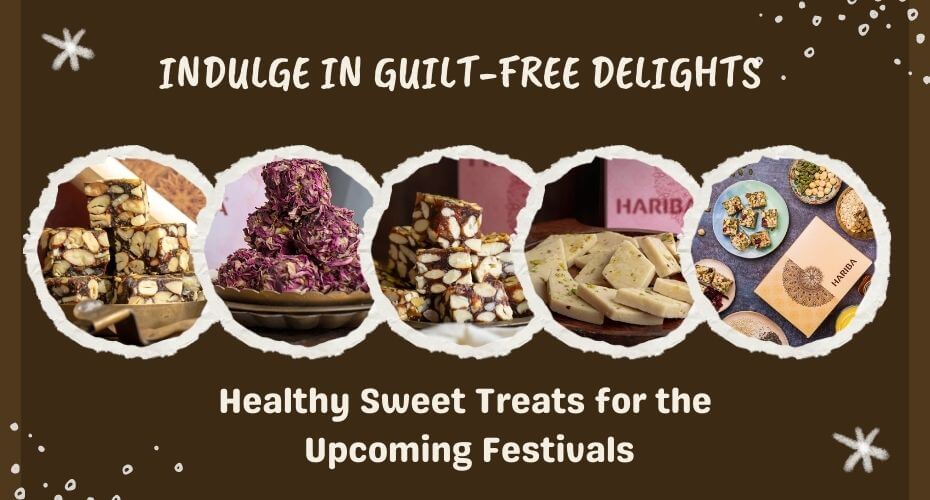 The festive season is upcoming, and it brings with it a wave of joy and excitement. However, this is also a time when we indulge in unhealthy sweets that can take a toll on our health. But worry not. With Hariba Dairy Farm's range of healthy sweet treats, feeling guilty about satisfying your sweet cravings is in the past! You can now indulge in guilt-free delights guaranteed not only to satisfy your taste buds but also to nourish your body at the same time.
Our collection of healthy sweet treats ranges from dry fruit punches and nutritional punches to kaju katli. We assure you, these treats will surely make the festive season sweeter and healthier. In this blog, we will take a closer look at some of the best healthy sweet treats from Hariba Dairy Farm, and explore all the nutritional benefits they have to offer. Ready to indulge in some delicious and nutritious sweets perfect for the upcoming festive season? Let's dive right in!
1) Dry Fruit Punch with Dates (Khajur)
Dates have been consumed for thousands of years and are popular in many cultures around the world. Dates offer numerous benefits due to their nutritional profile and can be a valuable addition to a healthy diet. It contains several minerals, including calcium, magnesium, and phosphorus, which are essential for maintaining strong and healthy bones. Regular consumption of dates may help prevent conditions like osteoporosis. Apart from these it also contain vitamin B6, which plays a crucial role in brain health. This vitamin helps in the production of neurotransmitters and supports cognitive function, including memory and concentration. With other ingredients like almond, cahsew nuts, pistachio and honey, enhance nutrients which support overall well-being and provide the body with the necessary fuel for optimal functioning. Thus so it should be consumed as part of a balanced diet.
A traditional Gujarati treat that is rich with nutrients and energy is a dry fruit punch with dates. The benefits of a tonne of dry fruits are literally packed into a delicious box in dry fruit punch with dates, commonly known as Khajur Pak.
It is produced by combining substantial amounts of crisp and delicious dry fruits, such as cashew nuts (Kaju), almonds (Badam), and shredded pistachio (Pista), with dates and honey in A2 Gir Cow Ghee. It is the perfect substitute for snacks since it warms the body, fills it with nutrients, and gives you more energy while also satisfying your taste senses.
2) Dry Fruit Punch with Anjeer (Fig)
The dry fruit with anjeer is a nutritious treat made of dates, cashews, almonds, and Anjeer, or dried figs. These ingredients are combined, and then sliced into little squares. Iron, calcium, and other necessary nutrients can be found in good amounts in the resultant dry fruit anjeer square. If you want to sate your sweet tooth while still obtaining a good serving of nourishment, consider this alternative!
3) Dry Fruit Punch Rose
The Dry Fruit Punch Rose by Hariba Dairy Farm is an option worth considering if you are looking for a healthy sweet option that is totally out of the box. Made with a unique blend of dry fruits, nuts, and rose petals, the Dry Fruit Punch Rose is packed with essential nutrients and antioxidants, making it a guilt-free indulgence you can enjoy with your loved ones this festive season.
As all Hariba Dairy Farm sweets are, the Dry Fruit Punch Rose, too, is free from any artificial colours, flavours, or preservatives, so you can get only the best quality and natural ingredients. Make sure you order this delicacy to add a touch of sweetness and nutrition to your celebrations!
4) Nutritional Punch
The Nutritional Punch is made from a combination of high-quality dry fruits, including but not limited to raisins, almonds, cashews, pistachios, and walnuts. Dried fruits are a great source of vital nutrients including fibre, vitamins, minerals, and antioxidants that support good health in general. This delicious yet incredibly healthy food that rapidly energises the body is created when the nutrient-dense properties of dried fruits combine with the sweet sweetness of honey, a natural sweetener and a fantastic source of energy.
Dry fruits and honey combined with Hariba A2 Gir Cow Ghee roasting provide a safe and wholesome snack choice because it lacks preservatives, artificial colours, and tastes. The Nutritional Punch has a high nutritional value, but as if that weren't enough, this mouthwatering snack may also help with digestion, immunity, and heart health. It is also a fantastic source of undiluted, pure energy that carries you throughout the day, and makes it an awesome choice for the festive season!
A combination of chia seeds, quinoa seeds, pumpkin seeds, magajtari (melon seeds), almonds, cashews, hazelnuts, pistachios, and kishmish (raisins) can indeed be a great addition to a gym workout meal. These ingredients provide a good amount of plant-based protein, which is essential for muscle repair and growth after a workout. The seeds and nuts mentioned are rich in vitamins, minerals, healthy fats, and antioxidants. They offer a wide range of nutrients that support overall health and provide sustained energy during workouts. Chia seeds, quinoa seeds, and nuts are high in fiber, which aids in digestion, promotes satiety, and helps regulate blood sugar levels. This can contribute to maintaining a healthy weight and feeling satisfied after a meal.
5) Kaju Katli Without Warakh and Mawa
The most well-liked sweet in India is here Kaju Katli! Everyone undoubtedly likes this combination of cashews, sugar, and ghee. The cashews are processed into a fine powder, then combined with sugar and ghee to create a rich, fudgy batter. After being rolled out and cut into diamond-shaped pieces, the mixture is prepared for consumption. It has a rich, nutty flavour and a texture that melts on your tongue. It is a wonderful source of protein and healthy fats.
As the name itself suggests, the Kaju Katli without Warakh and Mawa is made without warakh, which is a thin silver edible coating, and mawa, which is thickened milk. Thus, it is free of any unhealthiness, and you can indulge in it, that too guilt-free!
Conclusion
In this guide, we went through a list of 5 healthy sweet treats for the upcoming festivals, including dry fruit punches, nutritional punches, and kaju katli without warakh and mawa! We hope you found this article sweetly informative and nutritiously interesting. Thanks for reading, and keep following us for more such delicious articles!